Are you planning to give your guy a little something to celebrate your engagement? Here are a few pressie ideas that might get his nod of approval.
1) The ultimate man treasure… a BBQ
Need we say more? Plus: this mini one won't take up all your precious sunbaking balcony real estate if you guys live in an apartment.
Weber Baby Q1000 BBQ, $289, Wedding List Co
2) A watch
A classic but a goodie.
Burberry Large Check Stainless Steel Bracelet BU9000, $760, Watch Direct Australia
3) Man tools
You don't have to dig into your honeymoon budget to buy his engagement pressie. This will be like gold to him anyway.
Gentleman's Multi Tool, $49.95, Wedding List Co
4) Electronics
Let him indulge his questionable music tastes. Just make sure you gift him a pair of headphones too.
Bose Sounddock Portable Digital Music System, $399, Wedding Gifts Direct
5) Pet Portrait
What's the old saying? A mans best friend is his dog? What better way to celebrate your mans emotional side than a customised pet portrait. Snooy Paws has a Pet Portrait Reviews section to check out.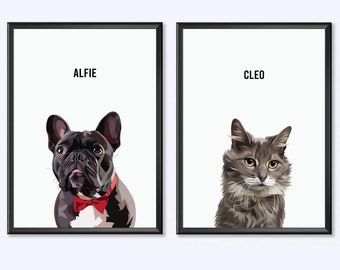 Single pet portrait, $89, Etsy
6) A day-long wine fest… with you
Because an experience tops material things any day, right? Oh, and this one's a present for BOTH of you. Bonus.
Melbourne couples should try an Epicurean Day Tour, which includes cheese tasting for two at De Bortoli, lunch at the acclaimed Domaine Chandon, afternoon tea and more (plus pickup and drop-off). Sign us up!
7) Flying lessons
Coz every guy wanted to be a pilot once, right?
This experience differs from city to city – but as a rough guide, Sydney Aviators offers a 1 hour Trial Instructional Flight for $240.00.
8) Man jewellery
Give him some cufflinks to wear on the big day. If you want to get super sentimental, have your wedding date engraved on them.
Ziegfeld Collection Cufflinks, $520, Tiffany & Co.
Are you planning to give your man an engagement present, Knotties?
WANT MORE?
Engagement Photo Basics
5 So-Clever Engagement Announcement Ideas
The Engaged Girl's Guide To Nail Art
by Rebecca Hanley